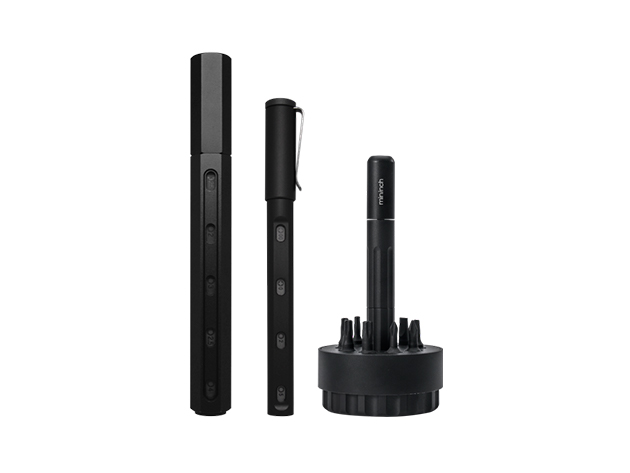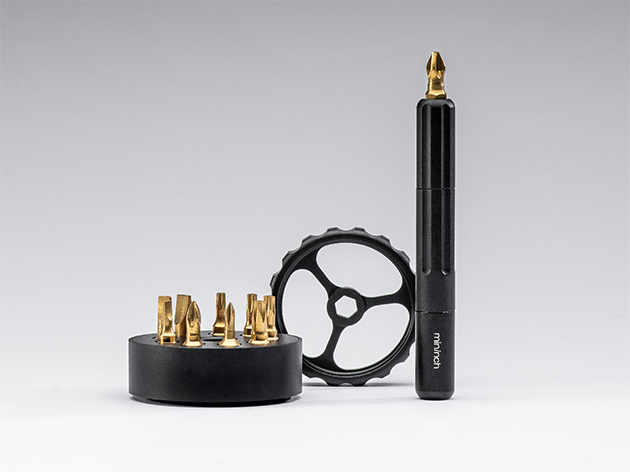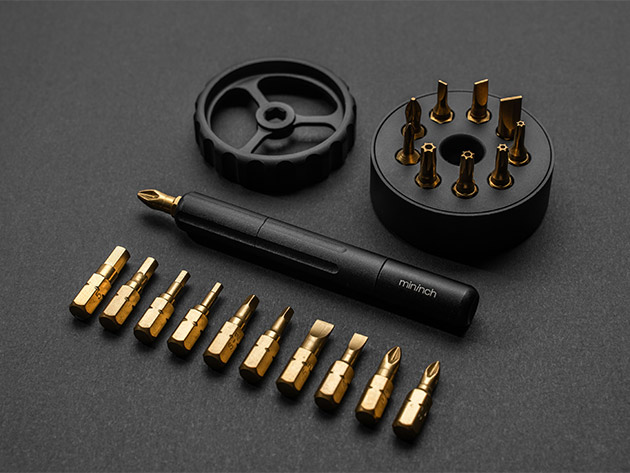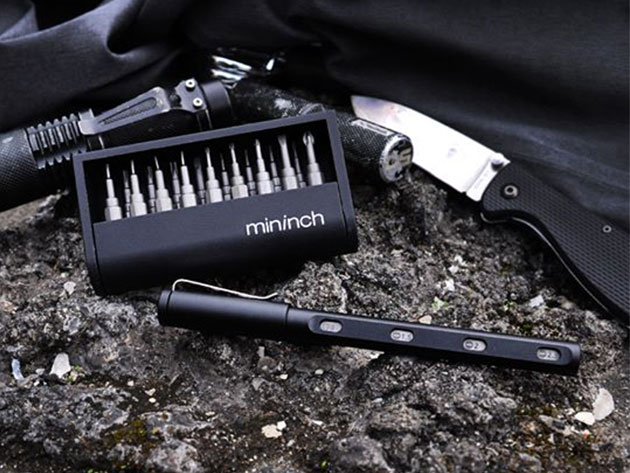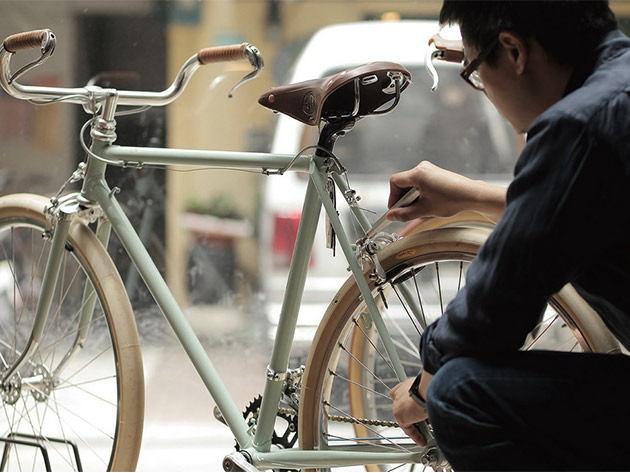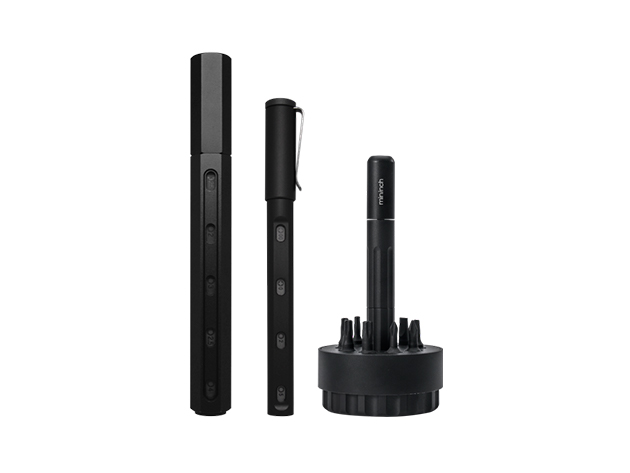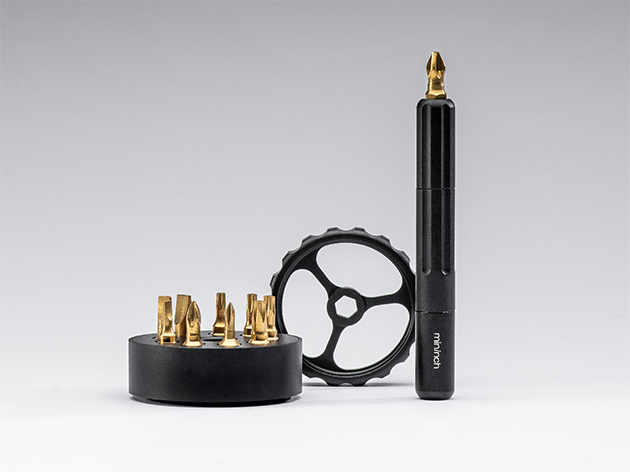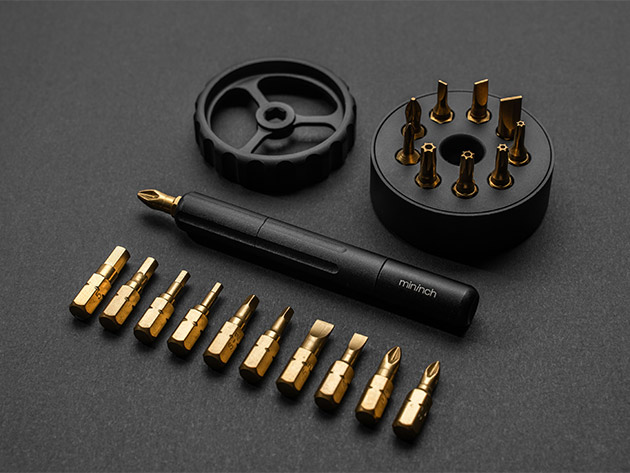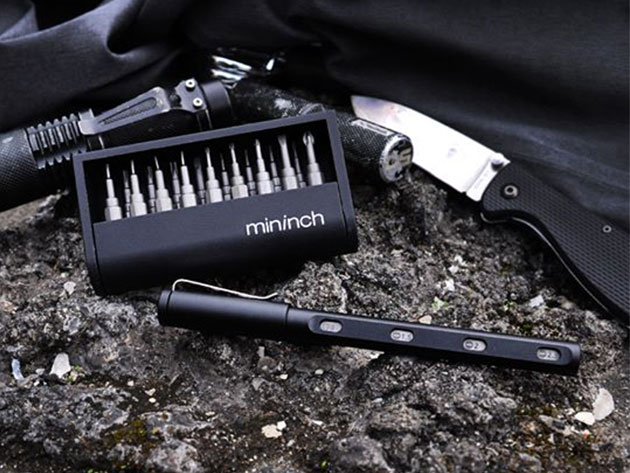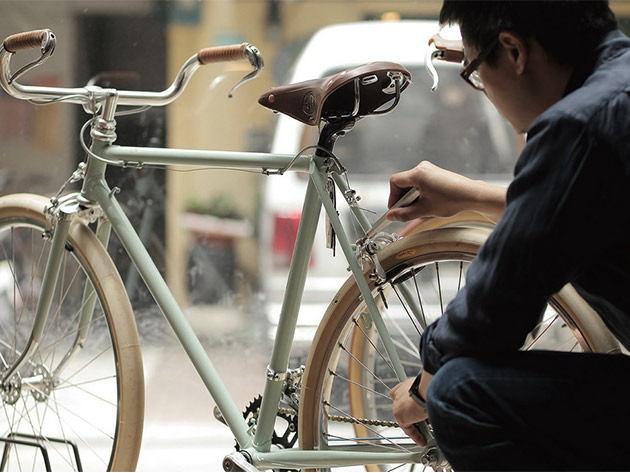 Mininch Screwdriver Bundle
by Mininch
Handle All Kinds of Repairs in One Package with This Bundle of Tool Pen, Tool Pen Mini, & Spinner Drive
Description
Each Mininch Screwdriver Bundle includes a Tool Pen, a Tool Pen mini, and a Spinner Drive. Both Tool Pen and Tool Pen mini apply the 'Pop-A-Point' rainbow pen and mechanical pencil technology to screwdriver's heads. The multiple head types and sizes are stored conveniently in the body of the pen, making it easy to swap between them for any job. The Spinner Dive is the minimalist solution that can make easy torque adjustments with an ergonomic spinner wheel and smooth ball bearing. It will replace your precision screwdrivers, standard screwdrivers, and T-Handle screwdrivers. Handle all kinds of repairs in one package.
Mininch has won a number of awards including the 2013 iF Product Design Award and the 2012 Red Dot Design Concept Award
Tool Pen
Each pen comes with 16 bits
Each bit is layered over the next in tailor-made hexagon barrel
Inspired by "Pop-A-Point" rainbow pen & mechanical pencil
With similar methods of replacing refills, you'll simply insert & interchange demanding bits into the pen
Tool Pen mini
Bits sizes & icons are printed on all sides
Window shows which ones are inside
Each pen comes with 22 bits
Cap comes with a strong magnet built-in; prevent leads getting damage & protect you from accidentally stabbed
With a pocket "clip" on cap
Spinner Drive
Has the upper hand in terms of rotation speed
You'll be able to produce a lot more force compare to traditional screwdrivers of similar sizes
Ideal for repairing larger pieces like furniture, bicycle, home appliances, & more
Specs
Specs
Color: black
Tool Pen

Materials: aluminum, nickel-chromium-molybdenum alloy steel
Dimensions: 5.9" x 0.69"
Weight: 93g

Tool Pen mini

Materials: aluminum, S2 tool steel
Dimensions: 5.25" x 0.5"

Spinner Drive

Materials: aluminum spinner drive & stainless steel with titanium nitride coating
Spinner drive: 3.58" x 0.47"
Spinner wheel: 0.47" x 1.97"
Includes
Tool Pen. SL3, SL4, SL4.5, PH1, PH2, H2, H2.5, H3, H4, T10, T15, T20, T25, S1, S2, S3
Tool Pen mini. SL1.5, SL2, SL2.5, SL3, PH00, PH0, PH1, H0.9, H1.3, H1.5, H2, T5, T6, T7, TR8, TR9, TR10, S1, P2, P5, P6, SIM Eject 0.8
Spinner Drive

Spinner Drive
Spinner Wheel
Base
Portable Case
Tough Bits: PH0, PH1, PH2, SL2.5, SL4.5, SL6.5, TR10, TR15, TR20, TR25, SL3.5, SL5.5, PZ1, PZ2, S1, S2, H2.5, H3, H4, H5
Shipping
Ships to US
Expected Delivery: May 26 - Jun 5