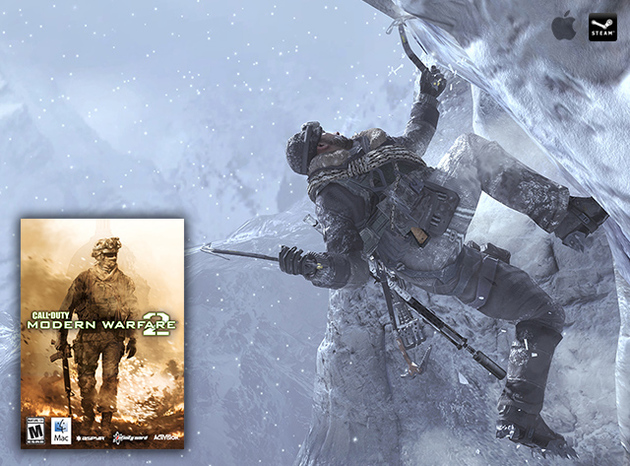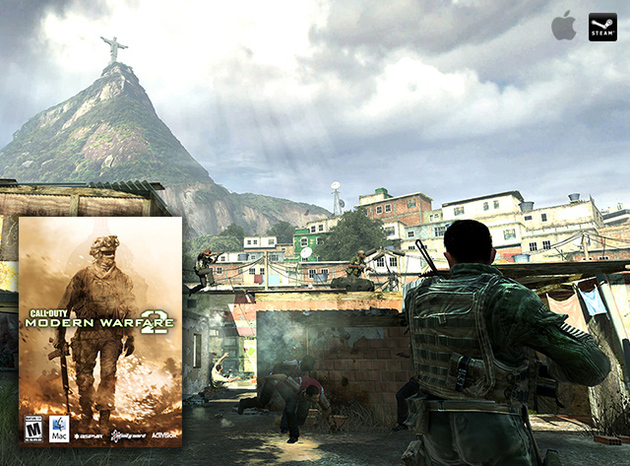 Call of Duty: Modern Warfare 2
by Aspyr
Step Into Battle As A Future Soldier - Redeemable Through STEAM
Description
SAVE THE WORLD BEFORE IT'S TOO LATE
The heart-pumping
sequel to one of the best-selling
first-person action game of all time, Modern Warfare 2 isn't short on
gripping and heart-racing
action. The story picks up
immediately following
the historic events of Call of Duty 4: Modern Warfare, and you'll face off against a new threat dedicated to bringing the world to
the brink of collapse
.
WHY YOU'LL LOVE IT
Get hours
of action packed, gun wielding fun
with one of the best FPS franchises out there. Plus, for the
first time in video game history
, the soundtrack is composed by legendary Academy Award, Golden Globe, Grammy and Tony Award-winning composer
Hans Zimmer
. Talk about epic.
GAMEPLAY FEATURES
Special Ops Co-Operative - Entirely new gameplay mode which supports 2-player co-operative play via online or split screen that is unique from the single player story campaign
Special Ops pits players into a gauntlet of time-trial and objective-based missions
Rank-up as players unlock new Special Ops missions, each more difficult
Missions include highlights from the single player campaign, fan favorites from Call of Duty 4: Modern Warfare and all new, exclusive missions
Multiplayer Reinvented - Delivers new capabilities, customization, game states and modes, including:
Customizable Killstreaks with Sentry Gun, Counter-UAV, Care Package
Accolades (Post match reports)
Create-a-Class Evolved
Secondary Weapons, Machine Pistols, Shotguns, Handguns, Launchers, Riot Shields, Equipment, Throwing Knives, Blast Shield, Tactical Insertion, Perk Upgrades, and Bling (Dual attachments)
THE PROOF
Metacritic Score: 86/100
Best Overall Game of 2009
-
GameSpy
"When you look at the total package, Call of Duty: Modern Warfare 2 is hands-down one of the best first-person shooters out there, and a truly amazing offering across any system." (9.5/10) -
IGN
WHAT YOU'LL NEED
IMPORTANT NOTICE: Currently, MW2 for Mac may not be accessible to users in Russia, Poland, Germany, and Japan
Operating System: 10.9.2 (Mavericks)
CPU Processor: Intel i3 (Dual-Core)
CPU Speed: 2.2GHz
Memory: 4 GB RAM
Hard Disk Space: 13 GB
Video Card: ATI Radeon HD 4850, NVidia Geforce 640M, Intel Iris
Video Memory (VRam): 512 MB
Peripherals: Macintosh mouse and keyboard
Languages: English, French, German, Italian, Spanish (Interface)
This game is not supported on volumes formatted as Mac OS Extended (Case Sensitive)
NOTICE: The following video chipsets are unsupported for Call of Duty®: Modern Warfare® 2:
ATI RADEON HD 2000 Series
ATI RADEON HD 6490M, 6630M, 3870
NVIDIA 9000 Series
NVIDIA 320M, 330M
Intel HD 3000, 4000, 5000
Terms
Direct download through Steam
You must download Steam (free) to activate your game
All prices are in US Dollars (USD)