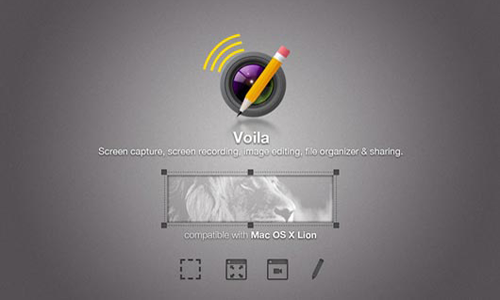 by Smith Micro Software
The Best All-in-One Mac Screencapture Tool
Description
Voila is the Must-Have Screen Recording and Editing Tool for your Mac!
The magic lies within the fact that you'll be able to enjoy
complete freedom
to record and capture anything that appears on your screen. With this Mac app you'll be able to use a variety of effect and annotation tools to create
instructive
and
professional
screens and recordings. For ONLY $15 [50% off] you can't go wrong with this timesaving screen capture application because of its unusually effective features!
Main Features:
Capture and Record
With Voila you can capture and record anything and everything you see on your screen. Capturing from your desktop, web pages and camera and recording your desktop has never been easier. Capture full screen or use drawing tools to record specifics areas. Once complete, you can upload and share anywhere including Flickr™, YouTube™, or via FTP and email.
Organize Images and Recordings
Voila's smart Organizer manages your images and videos so you have access to them wherever and whenever you want.
Annotate and Edit
Make professional and informative presentations with a host of annotating, editing and effects tools. You don't have to be an expert to prepare great presentations; just leave it to Voila!
Share with the World
Let the world see your work! Instantly share with just one click to YouTube™, Flickr™, FTP, Mail and more. Or simply print it to get a hard copy of your work.
Customer Reviews:
"Voila is PERFECT at its job, and has definitely caused more than one moment of surprise during the time I used it." - MacRecon.com "Its superior image editing tools and more precise parameter controls put it easily over the top. " - MacNN "Voila is one of the
handiest tools
in a designers arsenal as far as I'm concerned. Working remotely means communication is key and Voila has the tools to quickly get a visual message across... take a screen grab, mark it up and send... so easy and my customers are always impressed with the speed and quality output... I seriously highly recommend this application to anyone serious about professionalism and efficiency." - Matt Brady, Managing Director, CrewMark "If you are looking for a
gorgeous, easy
to handle screen capturing software on Mac, Voila is definitely the one you should try! It is definitely one of the best screen capture and editing softwares you will find on Mac! We, at Mac Aficionados, have been astonished by the quality of the app and it's innumerable features!" - Mac Aficionados
Other Key Features:
Capture full screen or just a portion of it; windows, objects, menus or special selected areas, even odd-shaped areas
Add your own music
Smooth playback and adjust speed
Share captures with the Clipboard
Built-in browser captures specific items on a web page
Capture video from your built-in webcam
Access powerful annotation tools; scaleable text, arrows, shapes or speech balloons
Blur or erase portions of the screen to protect sensitive information
Use the Spotlight tool to highlight a portion of the image
Picture-in-Picture feature allows use of one image within another
Quickview support in the Organizer
Smart Collections feature helps automate organization
Publish to Flickr or YouTube with a single click
Scale final image perfectly for your desired use
Quickly snap and record with shortcuts
System Requirements:
Mac OS 10.5.8 or newer
Minimum: 1.25 GHz PPC with 512 MB RAM
Recommended: 1.83 GHz Intel Core 2 Duo with 1 GB RAM
Languages: English & French
Terms
One license per customer
Can't use license for resale
30 day refund policy
Product can be downloaded