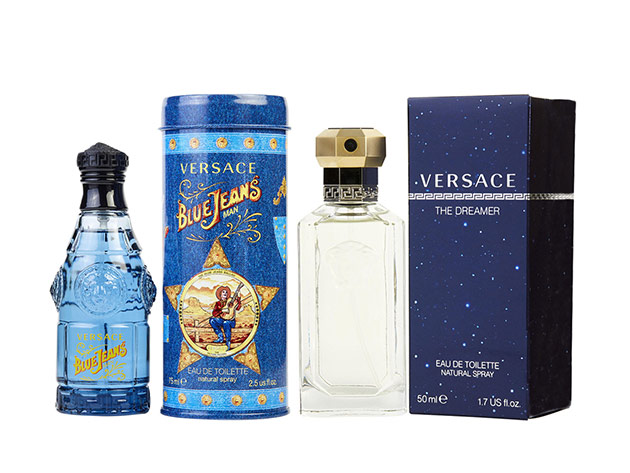 Versace Men's Bundle: Blue Jeans 2.5oz + Dreamer 1.7oz
by Deep Deal LP
This Bundle Will Give You an Irresistible Masculine Scent that Will Make You the Center of Attention
Description
Known for his cutting-edge, eye-catching styles, Versace's foray into perfumery in 1981 took on a more subtle edge. With more than 75 perfumes and colognes released through the years, they all have sensual undertones that are craftily balanced to keep them light and airy yet aromatic and delectable. Although Versace died in 1997, his brand lives on and continues to produce high-quality clothing, accessories, and fragrances.
Versace Blue Jeans EDT Spray (2.5oz)
Versace Blue Jeans EDT Spray exudes casual, classic style with just a dash of this men's eau de toilette spray. Spray on this captivating fragrance after a workout or before a day at the beach for a clean, lasting finish to your grooming routine.
Top notes. Epitomizes relaxed, all-American style w/ a blend of citrus & lavender notes
Heart notes. A subtle hint of bergamot adds a cool, crisp dimension to this lightweight fragrance
Base notes. A warm masculine base of vanilla & patchouli to add more depth & resonance to your overall fragrance
Versace Dreamer EDT Spray (1.7oz)
Dreamer eau de toilette spray by Versace is the perfect fragrance for your romantic soul. Launched in 1996, this subtle and sweet designer scent for men is designed to turn heads.
Top notes. Subtle & sweet designer scent for men leaving a warm & woody aroma
Heart notes. Relish in the sweet open of mandarin notes combined with floral & fresh lavender
Base notes. A rugged heart of tobacco blends w/ the rich scent of tonka bean for a finish that is mysterious & captivating
Specs
Specs
Versace Blue Jeans

Fragrance: citrus
Size: 2.5oz
Top notes: Citrus accord, Geranium, Rose, Galbanum, Juniperberry
Heart notes: Jasmine, Lavender, Violet, Nutmeg, Bergamot
Base notes: Iris (Orris), Cedarwood, Sandalwood, Vetiver, Amber, Musk, Vanilla, Patchouli
Gender: men
Year introduced: 1994

Versace Dreamer

Fragrance: earthy greens
Size: 1.7oz
Top notes: Wildflower, Tarragon, Juniperberry
Heart notes: Iris (Orris), Lily (Amber), Linden blossom, Lavender
Base notes: Tobacco flower, Amber, Tonka Bean
Gender: Men
Year introduced: 1996

Perfume house: Versace
Type: EDT spray
Includes
Versace Blue Jeans EDT Spray (2.5oz)
Versace Dreamer EDT Spray (1.7oz)
Shipping
Ships to US
Expected Delivery: Oct 5 - Oct 12
Terms
Returns accepted within 30 days of shipment for orders within the Contiguous US.