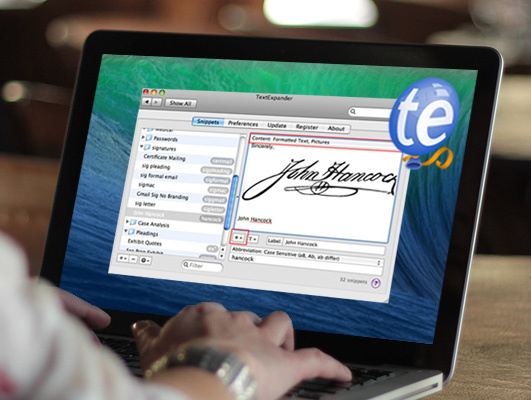 TextExpander 4: Winner Of The 2010 Macworld Editors' Choice Award
by Smile
Save Time, Type Faster & Create Keyboard Shortcuts For All Your Mundane Tasks
Description
EXPAND YOUR TYPING GAME
TextExpander saves your fingers and your keyboard, expanding
custom keyboard shortcuts
into frequently-used text and pictures.
Save time and effort
with this TextExpander app – whether it's a simple email signature or several paragraphs of a standard response, you'll love not having to type the same thing over and over. That's why it was named the
Winner of the 2010 Macworld Editors' Choice Award
.
TOP FEATURES
Snippets - From a single line signature to paragraphs of boilerplate, just drop them into your snippet collection and have them at your fingertips – literally
Build an Email Signature Library - Always insert the perfect email signature from your personal snippet collection, even illustrate with photos or logos
Automatically Fix Typos - Watch TextExpander magically unfumble your fingers, also includes the TidBITs AutoCorrect Dictionary containing more than two thousand common typos
Achieve Form-Filling Bliss - Breeze through forms, put your address, email, phone and fax numbers in your snippet library and call them up with a handful of keystrokes
And much more
DEMO
Click
HERE
to view numerous video tutorials on the app.
THE PROOF
Winner of the 2010 Macworld Editors' Choice Award
"The single best productivity tool for the Mac, right after Quicksilver." -
Leo Laporte, host of MacBreak
"If you find yourself rewriting the same lines of code, the same paragraphs, even the same signature over and over each day, you're doing it wrong. How many hours each year would you save, simply by turning an eight second repetitive typing task into a keystroke? Especially in my particular circumstance, TextExpander is 100% a necessity." -
Jeffrey Way, 20 Mac Apps You'll Use Every Day
WHAT YOU'LL NEED
TextExpander 4 requires OS X 10.7 or later
TextExpander 3.4.2 remains available for download and runs on 10.6 and later but does not have all the features of TextExpander 4, particularly fill-ins
English, French, German, Italian, Japanese, & Spanish
LICENSE DETAILS
How many computers can you activate software with? - Any computer, if you're the only user of those computers.
Terms
30-day refund policy
Instant digital download
All prices are in US Dollars (USD)