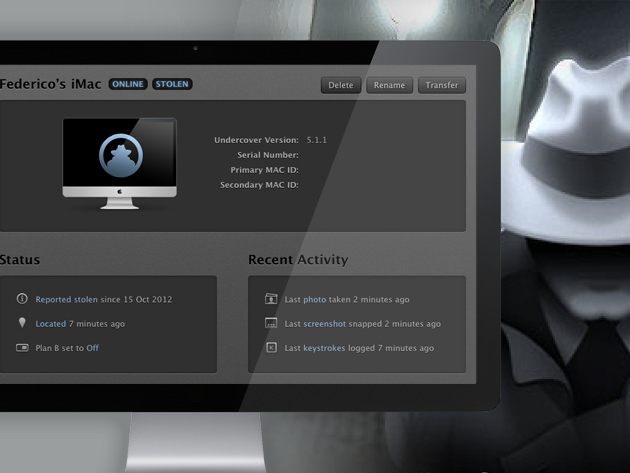 Keep Your Mac Safe With Undercover: The Mac Recovery System
by Orbicule
Locate Your Stolen Mac & Catch The Crook With This Easy To Use Software
Description
LOCATE YOUR STOLEN MAC
The FBI just put out a study saying that
97% of stolen computers are never recovered
.
Don't be a statistic
- protect yourself with this theft recovery app for Mac. With Undercover installed, you can
find your stolen mac
with wireless location tracking, get pictures of the thief from your webcam, see screenshots of what's happening on your computer and see what the thief is typing.
WHY YOU'LL LOVE IT
If you're anything like us, your Mac is VERY important to you. With its smooth user experience and great customer support/follow-up, Undercover makes it easy to keep your Mac safe. The folks at Undercover work together with police to get your Mac back, fast.
TOP FEATURES
Effortlessly collect information about the thief (photos, location, screen activity and typing)
Undercover collaborates with the police
Auto-activation is possible when your Mac leaves your network
WHAT YOU'LL NEED
Mac OS X 10.6.8 or higher
This app is only available in English
THE PROOF
"Undercover works like a charm. It recently found my MacBook Pro and I had it back within 5 hours of handing the report to the police. At the same time iCloud's find my Mac didn't even activate..." -
Drew B.
"We want to report the successful recovery of our son's stolen computer. The police were very impressed with the information given to them from Undercover, and they were not only able to recover our son's computer, but several other stolen computers at the same time!" -
Christy
"This morning my laptop got stolen along with my iPad. After I gathered all the evidence, the whereabouts and pictures of the thief, I immediately informed the police. It was recovered within 6 hours!" -
Paul W.
SOFTWARE LICENSE DETAILS
How many computers can you activate software with? - 1
When does license need to be redeemed by? - December 31, 2014
Does it include updates? - Minor updates are included, major updates might be paid
Terms
All sales are final
Instant digital download
The listed deal price is in US Dollars (USD)