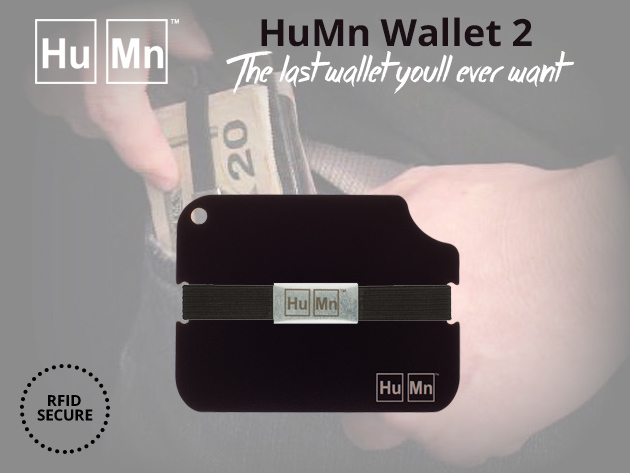 Sleek HuMn Mini Wallet w/ RFID Protection
by HuMn
The Mini Version of Kickstarter's Most Successful Minimalist Wallet To Date
Description
Please note: this promotion is only available to customers in the Continental United States, sale price includes shipping and all sales are final.
Please note: This promotion is for the black wallet only.
THE LAST WALLET YOU'LL EVER WANT
The days of lugging around a clunky wallet are over. They're unorganized, unnecessary, and can even mess up your back. Anyone familiar with Kickstarter knows how prominent minimal wallets are, and that's because there is a need. Meet the HuMn Wallet 2, the most successful minimal wallet on Kickstarter to date. This is the ultimate minimalist wallet that is built to last a lifetime.
RFID SECURE
RFID is the wireless non-contact use of radio-frequency electromagnetic fields to transfer data. This technology has been utilized for years in metro cards, gym passes, library cards, etc. Now it is starting to pop up in drivers licenses, debit cards, and credit cards. The issue is, this technology is highly hackable and can leave your private information vulnerable. The HuMn Wallet's aluminum plates protect against RFID skimming by providing protection of your identity and credit cards.
WHY WE LOVE IT
The HuMn wallet has created a bit of a buzz with our employees and it's finding its way into a few of our pockets. Simply put, this wallet is a game-changer. How many cards do you carry in your wallet that you only use a few times a year? Cut the fat, get what you need from your wallet, and get on with your life while keeping your information secure and locked down.
TOP FEATURES
Aluminum Strong - The wallet is made from 6061 aircraft grade aluminum, then bright dip anodized to make it durable and give it that pop.
Shock Strap - This high-quality elastic strap is built to last while retaining elasticity.
RFID Proof - The aluminum plates protect against RFID skimming by providing protection of your identity and credit cards.
THE PROOF
"I've had my wallet for a few months and absolutely love it. I have always been a leather bi-fold wallet guy…thick, with way too much stuff, and a lower back that hurt after long days of sitting. My new wallet has allowed me to re-think what I need, much slimmer profile, easier to manage and I love the money clip aspect of it... Thank you HuMn for producing a quality product!" -
User Review
"I am very impressed with this lightweight wallet. Easy to use and about 1/4 the size of my old leather wallet, yet holds everything in a clean organized manner. Very durable and holds up well. I highly recommend one!" -
User Review
Also, as seen on
Uncrate
,
Lifehacker
,
Wellness Travel Journal
and in the
2013 ESPY Awards gift bag
.
PRODUCT SPECS
Width: 3.85″ (97.79mm)
Height: 2.96″ (75.18mm)
Thickness per 2 plate wallet: .10″ (2.54mm)
Weight: 1.7 oz
Terms
No refunds.
Only available to customers in the Continental US.
Price includes FREE SHIPPING!
Promotion includes black plates and black strap ONLY.
Please allow 7-15 business days for shipping.