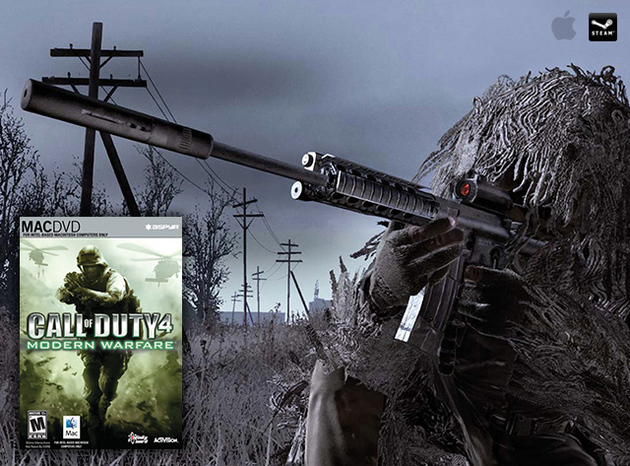 Call Of Duty 4: Modern Warfare
by Aspyr
In celebration of the COD Ghosts launch, we thought we would bring you the game that started it all.
Description
JOIN THE BATTLE
For you gamers out there that aren't looking to spend an arm and a leg for COD: Ghosts you can now experience this
award-winning
title for pennies on the dollar. Fighting as both a
U.S Marine
and
British S.A.S.
soldier, you will utilize sophisticated technology and weaponry to take control of the battlefield and to lead your squad to victory.
WHY YOU'LL LOVE IT
Get hours
of action packed, gun wielding fun
with one of the best FPS franchises out there. In our minds, you can't go wrong with an
epic single player storyline
and
classic multiplayer gameplay
that lets you immerse yourself in dynamic battle scenes so you can fight your way out.
GAMEPLAY FEATURES
Authentic Advanced Weaponry – An available arsenal of more than 70 new and authentic weapons and gear from assault rifles with laser sites, claymore mines, .50 caliber sniper rifles, and M-249 SAW machine guns
Coordinated Assault and Support – Feel the adrenaline rush as you fast-rope from tactical helicopters, ride in an armada of attack choppers, utilize jets to remove enemy strongholds and even engage hostiles from thousands of feet above the ground inside a state of the art aerial gunship
Cinematic Quality Graphics and Sound – Next-generation graphics, realistic battle chatter, and award-winning sound design deliver an intense, visceral fighting experience
Unparalleled Multiplayer Depth – Featuring a robust leveling system, a variety of unlockable perks, the ability to join a live match, as well as create a class and party capabilities.
More Challenges & Possibilities - Over 100 challenges and a host of new game environments and modes deliver unlimited possibilities
THE PROOF
Metacritic Score: 92/100
Winner of more than 40 E3 2007 awards
:
Editor's Choice Winner - Best Shooter - Gamespot.com
#1 of Top 50 Games of E3 - Game Informer Magazine
Best Overall First Person Shooter and Best Overall Graphics Technology - IGN.com
#2 Game of Show - Next Generation Online
Best Action Winner - Game Critics Awards: Best of E3 2007
Best of Show - G4 TV
WHAT YOU'LL NEED
Operating System: Mac OS X 10.7.5 or higher
Processor: Intel Core 2 Duo
CPU Speed: 2.4 GHz
Memory: 1 GB RAM
Hard Disk Space: 8.0 GB + 1 GB Swap File
Video Card: ATI Radeon X1600 or NVidia GeForce FX 7300 or Intel HD3000
Video Memory (VRam): 256 MB
Peripherals: Macintosh mouse and keyboard
Multiplayer Requirements: Internet (TCP/IP) or LAN (TCP/IP) play supported. Internet play requires broadband connection.
Languages: English, French, German, Italian, Spanish (Interface)
Power PC Processors (G4 and G5) are not supported
This game is not supported on volumes formatted as Mac OS Extended (Case Sensitive)
Terms
No refunds, all sales are final.
Instantly redeemable through Steam upon purchase.
Upon purchase, follow the redemption instructions located in your account to activate your game.